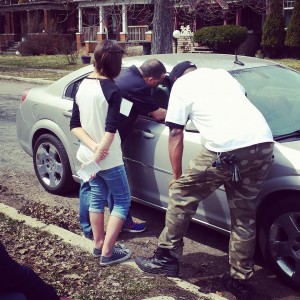 At the beginning of 2014 we met the Dell family. A chance encounter like so many God arranged moments. In the less than 6 months since then the Dells have become family. The entire family Mike, a Chiropractor, Crystal his wife , and their kids Faith and Gabe, commuted to Detroit for almost a week in April while we were in town. They worked tirelessly as a family and were such an encouragement and inspiration to our travelers. They worked so hard wether it was raking leaves for hours, or picking up trash, and Gabe and Faith may have been the hardest workers of all. Then in June Mike joined us in Kenya where he ministered to the bodies and hearts of hundreds of Kenyans and staff as well as travelers as a Chiropractor. This family is World Hope at it's heart and we'd like you to get to know them a bit better. In their own words:
When is a vacation just a relaxing vacation, never when God's in charge. A lesson we learned in January 2014 when we took what we thought was an ordinary family vacation. Reality is we embarked on a crazy ride that has brought us blessings beyond our imagination, tears, laughter and moments with God that are priceless. One stop to speak to the people at the World Hope booth lead to all this. A short conversation about the Hope Center coming to Detroit was just a tiny moment we overlooked as significant. God, doing what He does best, had great plans forming from that conversation.

    A few weeks after we arrived home we were burdened with the thought of doing what the Matthew West song says, "Do Something". As a family we were in prayer daily looking for God to lead us in a direction. Mike, a chiropractor, was very moved by the thought of getting off the couch and doing more and living the  1st Cor. 13th love chapter. There was a Sunday at church where our pastor preached a sermon called "Send Me". We were both moved to tears feeling God tug so strongly at our hearts. The following Tuesday we received an email from World Hope about the Hope Center in Detroit. In the middle of the email was a line that was very unexpected. "Our chiropractor that goes to Kenya is unable to attend this summer, would you be willing to go." It was literally an open door from God that was so obvious. Mike had been praying for God to do exactly what He did, open a door. Mike has spoke a few times at church and  to many from our office and is fully funded to go to Kenya in June. The kids and I would love to go to Kenya also, but we are content to drive an hour to Detroit and serve in the Hope Center there if that is what God has planned.

  From the World Hope booth on the K-Love cruise ship we have formed amazing friendships with new friends at World Hope and the Hope Center in Detroit. We have exposed our kids to mission work. We have had the opportunity to share the gospel with many unsaved patients and friends. We have seen God reveal himself so many times.

  The partnership between K-Love and World Hope is a blessing to so many and has forever altered our lives. We thank God that booth in the middle of the ship, that 15 minutes have brought on some of the most profound changes our marriage has ever experienced. We are excited to see what God has ahead.