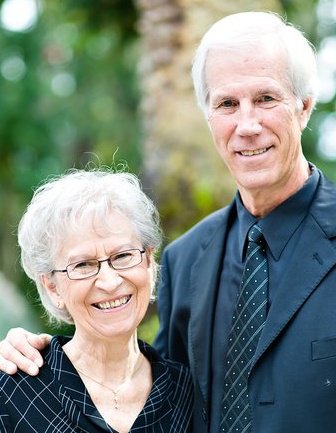 There are over 100,000 missionaries in the world, many of who have never had a chance to have their stories told. How often do you watch a major news station report that a missionary has lost their life on the field? Where is the voice for all those who are being the "hands and feet" of Christ? In light of these thoughts, we want to highlight Jack, a man who has been a friend of Hope's for over a decade that felt led to move to Kenya for 3 months to help run operations at Hope Center. In wanting to know more about Jack and wishing to tell his story, a World Hope writer gathered his thoughts and his story that we want to share.
Jack worked as a general contractor in the construction field for 20 years, and the last 17 years he has worked as a certified residential property appraiser. Jack had been on mission trips before, including going to Kenya in 2002 when the Hope Center building was started. "I am now in Nairobi, Kenya, with World Hope. My mission is two-fold. I am here to help establish some businesses that will not only help give locals employment, but also to bring in profits to help support the work of the school and church ministries at the Hope Center. Secondly, I am here to oversee the construction of additions to the school facilities. My call to missions has been for short periods of time."
As was mentioned, Jack's first visit to Kenya was in 2002 to start the Hope Center building. "The experience was amazing especially at the end when I had the opportunity to teach some locals how to use a tape measure, a square, and how to cut a straight line with a power saw so they could continue to build forms to pour columns for the foundation of the approximately 100′ x200′ building. Most amazing to me was to physically see the building up for the first time this time over there. It brought tears to my eyes." Hope Center houses the Hope Church and when church isn't in session there are three basketball courts inside. "My connection to World Hope is through my pastor, Dr David Janney, who founded World Hope." Jack continued to share, "Adding to what was previously said, what I saw was beautifully kept grounds that are now football (as they call it here) fields, offices, a school that is giving a lot of kids an education that they would not have had the opportunity to receive… all this on what once was a land fill!"
We wanted to know what has impacted Jack in his time in Kenya so far and he said, "A couple of stories have had an impact on me. One is about Paul, who is a mechanic and a driver for some World Hope activities, is married and has 3 children, 2 of which he and his wife have adopted out of the slums! Another is Isaac who is the general maintenance person for the Center and has been for a long time. He lives in the slums and just got electricity last week! There is also a young couple that I have sat behind the last 2 Sundays in church. They have a young boy who really gets into the praise and worship time… as does his parents. We have had great fellowship times after church. I am impressed with how many late teens early 20s there are in the service. Of the approximately 400 in attendance, they are a huge percentage. They are there to worship too!"
When asked about funds and what he perceives is a stumbling block in our work, and moreover, how our donors are making a difference, Jack said, "Talking about money isn't enjoyable, but I have found that some of the progress we have been trying to accomplish is stopped or delayed because of lack of funds. It costs a lot to construct buildings, pay teachers, buy supplies for students, put a nice uniform on their backs, feed them a lunch which in many cases it's the best meal they get in a day since they are out of the slums. Additional funds would allow us to reach more students with a good education and introduce them to Jesus. Contributions up to now have made a huge impact in reaching approximately 400 students!"
Jack has been a tremendous blessing to World Hope in sacrificing a quarter of his year to be in Kenya to help advance the work of the ministry. We are beyond thankful, and hope to inspire you to take the time to learn more about our missionaries, volunteers, and even those that are serving throughout the world. They each have a unique story to tell. Will you be their voice? Jack closed by saying, "My philosophy is World Hope's philosophy. 'It's not good, it's not bad, it's just different!'" He said in reference to the difference of life between Kenya and the USA. "People here will teach you to be more polite, forgiving and friendly." Thank you Jack for your service! Learn more about our volunteers with our new video series Volunteer Voice by Clicking here.