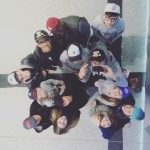 The van ride to the airport was relatively quiet. Tyman shared briefly of the Detroit landscape while he drove, as I continued to ask him questions from the front seat. Then from the back row of the van, a voice emerged from among the idle chatter of students. "Tyman, I'll give you $10 to turn the van around and take us back to The Hope Center," Christian Jacobson exclaimed hopefully. "Fine, how bout $20!" Tyman would playfully barter for more money out of the students as we continued the drive to the airport. Needles to say, a small group of teenagers began to fall in love with Detroit and vision of HOPE they had seen.
The trip was seemingly simple. The group of ten students and four adults arrived on Saturday to tour The Hope Center and the surrounding city. The team's goal was to participate in Sunday service then dig right into our 3 day construction project. The project consisted of turning a group of rooms on the 2nd floor of the center into one larger meeting space by removing every wall that stood in their way. The result would leave an open area to host events anywhere from karate to dance classes.
The students were excited to finally see what they had heard so much about from guest speakers and others that had visited before them. They were amazed at the history of the building and also the beautiful renovations that had previously been done. This gave them a motivation to leave their mark in Detroit through their assignment.
There was doubt whether a team of 10 teenage students (6 of them being girls), would be able to handle the task of demolishing 7 walls of concrete block and dry wall. The other concern was the journey from the 2nd floor to the back parking lot were all debris would need to be loaded into the dumpster. Surprisingly, the students and leaders came together to crush their project goals over the three days by working together as a team. They were even left with some time to spare, spending it hanging out with the Hope Center staff, by playing games in the parking lot.
Ten students gave up their spring break, to do what they thought was just helping with a need in inner­city Detroit. Instead, I believe we all realized that there was something special happening in Detroit, especially within the walls of the K­Love Hope center. We weren't just helping with a project, we were being invited to be a part of an amazing opportunity to make a dramatic impact on the people of a community. In the end, I believe there was more change in the hearts of ten students then on the 2nd floor of the Hope Center.
Michael Schmitt
Orlando Baptist Church
Student Pastor